Hat tip Atlas Shrugs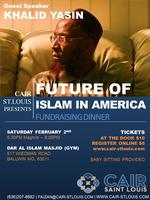 Khalid Yasin Michael Adebowale

"The more I learnt the more interested I became which led to me listening to a lecture by Sheikh Khalid Yaseen, you may have heard of him?"


Michael Adebowale is one of the two savages who murdered and nearly decapitated Lee Rigby, a British soldier, on a British street this year in full view of passers-by. In the below article from Daily Mail (UK), Adebowale explains his inspiration to become a Muslim. It largely came from another convert, an American named Khalid Yasin, a man who says homosexuals should be punished by death; a man who has spoken at events held by the Council on American-Islamic Relations and Muslim Student Association chapters in the US.
http://www.dailymail.co.uk/news/article-2531120/I-learned-purpose-life-U-S-hate-preacher-Killer-Lee-Rigby-reveals-inspired-Islamic-hardliner-says-little-support-Muslims-murder.html
It is called connecting the dots. CAIR insists that it is a moderate and mainstream Muslim organization. In reality, it has connections to the Muslim Brotherhood and is listed as an unindicted co-conspirator in the 2007 Holy Land Foundation trial involving Islamic charity funds being funneled to overseas terrorist organizations.
http://atlasshrugs2000.typepad.com/atlas_shrugs/2013/12/cair-tied-american-imam-inspired-devout-muslim-who-beheaded-a-british-soldier-on-a-public-street-in-.html
So if you happen to see Mr Yasim come to your campus to speak on behalf of the Muslim Student Association, be sure and ask him how he feels being the inspiration to Michael Adebowale. He will probably explain that Adebowale "misunderstood" him.
Lee Rigby