What could possibly go wrong?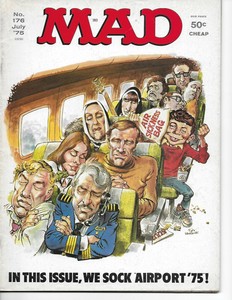 All kinds of things according to the video. There are varying accounts according to whether you are reading about it in Romanian or Arabic, but it appears that a Romanian Airlines (TAROM) plane, leaving Bucharest for Cairo on July 17, was just about ready to depart when attendants asked a couple to change seats. The Egyptian man and his Moroccan wife had apparently taken seats in the emergency exit row rather than their assigned seats and refused to go back to their proper palces. According to airline officials, the woman spat in the face of one of the attendants and quicker than you can say, "Fasten your seat belts", security appeared, and the man and his wife were removed from the plane, the man physically as you can see in the video. This took several minutes as passengers yelled, women screamed, babies cried, and dogs howled.
Here is an account from a travel tips blog, One Mile at a Time. The writer, a gentleman named Lucky, is clearly not the man in the video, whom we will call, "Unlucky".
https://onemileatatime.com/passenger-dragged-off-flight/
Here's a travel tip from Fousesquawk. If you ever visit Romania, behave yourself and always follow the nice man's directions-especially on a plane.