-Left:Daily Californian
-Right:
Der Stuermer
Noted attorney Allen Dershowitz spoke recently at UC Berkeley. There was considerable opposition to his appearance since his topic was a defense of Israel. Of course, that can never stand with the pro-Palestinian crowd. As expected, the anti-Zionists once again proved that they are really anti-Jewish. After Dershowitz's speech, a poster was placed on a wall in the law school with a swastika covering Dershowitz's image.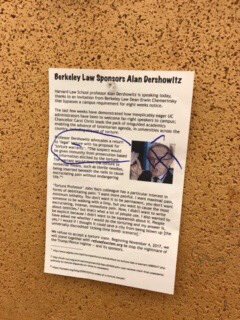 In addition, the Daily Californian, the rag that masquerades as a student newspaper, ran an editorial cartoon that conjured up images of Nazi Germany's infamous newspaper,
Der Stuermer
, which was run by the equally infamous Jew hater, Julius Streicher.
http://www.dailycal.org/2017/10/25/anti-semitic-caricature-alan-dershowitz-generates-no-criticism-uc-berkeley-hard-left/
To the credit of the Daily Californian, they did apologize, no doubt after being embarrassed after the fact.
http://www.dailycal.org/2017/10/25/editors-note-regarding-editorial-cartoon-depicting-alan-dershowitz/
I am gratified that Erwin Chemerinsky, the newly installed dean of the UCB Law School, wrote a letter protesting the anti-semitism surrounding Dershowitz's appearance. Too bad he was never aware of the problem while he occupied a similar position at UC Irvine. Maybe he is learning that denying the problem doesn't make it go away.