Hat tip Ami for bringing this to my attention.
On Monday, UCLA's campus paper, the Daily Bruin, ran the below cartoon.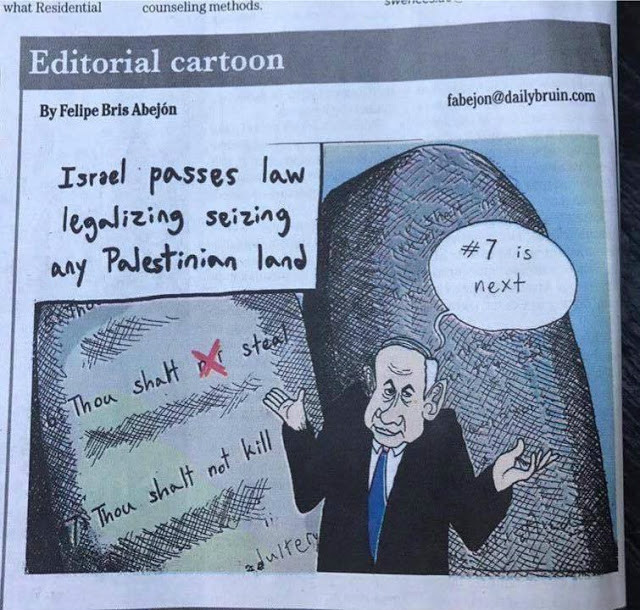 http://www.jta.org/2017/02/14/news-opinion/united-states/campus-civic-groups-condemn-cartoon-in-ucla-newspaper-seen-as-anti-semitic
"The cartoonist, Felipe Bris Abejon, is an undergraduate student in political science who last year served as education and resources director of the UCLA chapter of Students for Justice in Palestine, or SJP, a strongly anti-Zionist and pro-Palestinian national student group."
The reaction was swift, and the DB issued an apology the same day.
http://dailybruin.com/2017/02/13/editors-note-to-our-readers/
Even the Students for Justice in Palestine has condemned the cartoon disavowing any connection to the person who created the cartoon. However, note the reactions of the readers in the comment thread.
http://dailybruin.com/2017/02/13/submission-sjp-condemns-db-editorial-cartoon/
I wonder just when Mr Abejon left the SJP. Could it be just before SJP issued its statement to the DB?
Let's be clear. The record of the SJP across the nation-and at UCLA makes it clear that they are anti-Semitic. They were created by anti-Semites and have acted in an anti-Semitic nature ever since they were created. The fact that they admit misfit and misguided members of Jewish background does not make it any less so.
I applaud the DB for making the apology, but the current staff of this paper need to do some self-reflection. The university itself needs to engage in some self reflection. Only in a climate of political correctness and left-wing ideology could anti-Semitic cartoons appear in a campus paper. This is just the latest in a long series of ugly incidents that have infected university campuses as a result of the campus politicization of the Israeli-Palestinian conflict. UCLA and all universities need to understand how this has led to a climate of tension and fear for so many Jewish students.