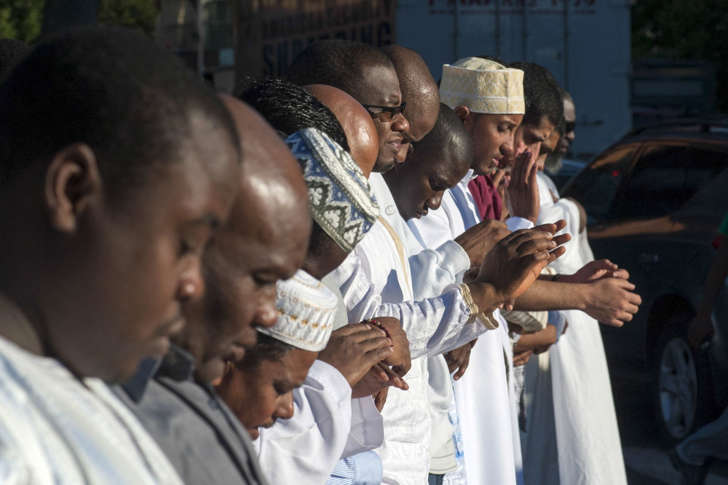 Donald Trump has created quite a stir with his call for stopping Muslims from entering the US. This is how MSN News has reported it. It features the above photo which shows worshipers at Brooklyn's Masjid (mosque) al Taqwa. (More on that later.)
http://www.msn.com/en-us/news/politics/trump-calls-for-complete-shutdown-on-muslims-entering-us/ar-AAg86Ic
The above article does ask a reasonable question:
"His campaign did not immediately respond to questions about whether it would also include Muslims who are U.S. citizens and travel outside of the country, including members of the military, or how a determination of someone's religion might be made by customs and border officials".
Full disclosure: I have stated several times that until this worldwide madness stops, Muslim immigration should be stopped. It is a simple matter of protecting innocent American lives. However, the question becomes thornier when it comes to Muslims who are US citizens, including those who are born here. We will have to await the actual commission of crimes and let the criminal justice system handle it. You can't deport American citizens unless they are naturalized and you first lift their citizenship for due cause.
As for that mosque in the picture with the men praying, that is the mosque of none other than Imam Siraj Wahhaj, who has been featured here many times. This is a man who testified as a defense witness in the trial of the Blind Sheikh, Omar Abdel Rahman. This is a man who has called America "a filthy garbage can". This is the man who referred to arming black convicts in the inner cities and turning them loose with AK- 47s. This is the man who has talked of an Islamic takeover of America.
And this is the man CAIR Southern California director Hussam Ayloush (who just blamed US foreign policy for the terror problem) told me last year in Riverside was one of the most respected spiritual leaders in country.