Hat tip
Fria Tider
and Isak
Grandpa has 4 wives
That's the title of a new children's book that is just hitting the shelves in Sweden. It is bi-lingual, Swedish and Somalian, and targeted for a children's audience between 3-6 years. The writer is Oscar Trimbel. He is also the author of another new children's book entitled, (in Swedish) Grandma is no ghost (referring to her burka). The stories concern a Somali-Swedish children meeting their Somali grandparents for the first time and the cultural differences they see There is quite a stir over the release of these books. The latter book is being criticized because many feel it is promoting polygamy among Swedish children who read the book.
By chance I was speaking over the phone with an acquaintance in Sweden today who picked up a copy of the book at the Gothenberg book fair (second largest in the world). He said he actually met and spoke with the author, Trimbel, who told him the book was meant as a way to help Somali kids integrate into Sweden. The article from
Fria Tider
was translated by me.
http://www.friatider.se/3-ringar-ska-l-ra-sig-om-islam-och-polygami-farfar-har-fyra-fruar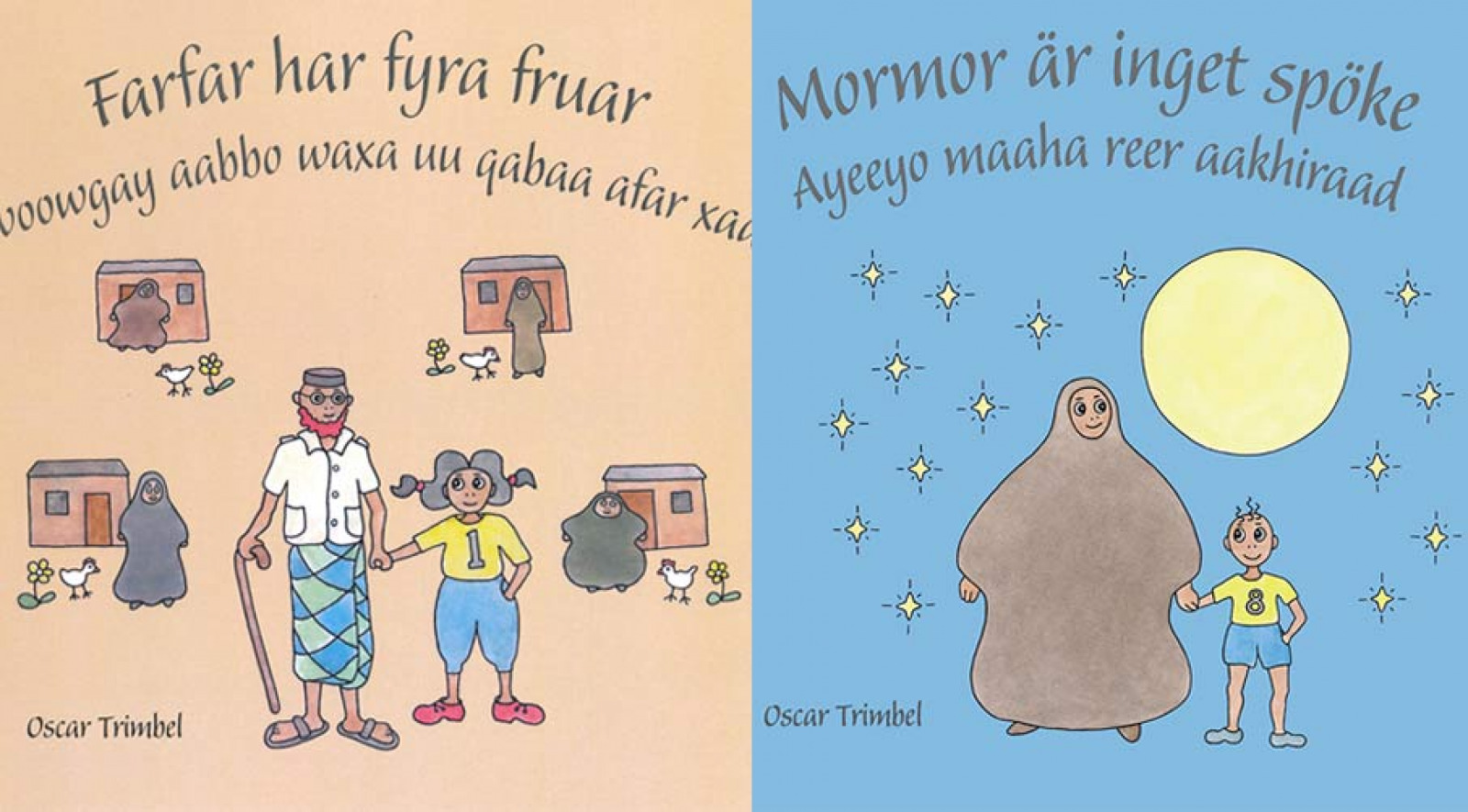 Three year olds learn about Islam
CULTURE NEWS.
Now two new children's books are released in Sweden, which include, among other things, polygamy and muslim Somali culture.
They are called "Grandfather has four wives" and "Grandmother is no ghost" and is aimed at very young children.
According to
Social News
, the association, Somali Nordic Culture, is selling the new children's books at the Book Fair in Gothenburg.
The books are written by author Oscar Trimbel.
"Grandmother is no ghost" is about Omar who greets his grandmother who comes from Somalia.
Grandmother wears full covering dress but is no ghost.
"When it's Halloween, Omar dresses like ghosts like any other child. He wants grandma to come along because it's gonna be nasty", the book is featured on
Adlibris website.
The second children's book, "Grandfather has four wives", deals with polygamy.
The front is adorned by a Muslim bearded man with his four wives in the background.
It tells about Asli who has never been to Somalia, "but now she will finally go there with her dad, to meet grandfather and all her grandmothers," so says Adlibris.com.
"The book has already been ordered by libraries, and can therefore be assumed to be fact checked in accordance with the guidelines of the Association of Libraries." Grandfather has four wives can also be ordered as a coloring book, " economist Tino Sanandaji writes sarcastically on his
Facebook
and points out that in the book" our children can be taught pedagogically about polygamy ".
The author Oscar Trimbel worked in the 1980s for Sida's behalf in Somalia.
He has, in the past, put out Somali folk songs and self-painted watercolors from his stay in the country.
The two books were published by the book publisher Book Machine in August this year.
Appropriate reading age is reported to be 3-6 years.
-------------------------------------------------------------------------------------------
Mr Sanandaji also submitted a list of suggested titles for children books which are below. I only translated the titles.
1 Storasyster hade en pojkvän, nu finns han inte längre
2 Pappa känner en snäll socialtant och har tre bostadsrätter
3 Storebror var på semester i Syrien, sen fick han en egen bostadsrätt
4 Lillasyster har fyllt 9, nu ska hon gifta sig
5 Farmor har traineejobb som läkare
6 Mamma är pappas kusin
7 Lillebror har skägg och PUT (?)
8 Morfar hjälper polisen och styr Göteborg
1
Big sister had a boyfriend, now he can't be found
3
Big Brother was on holiday in Syria, then he got his own condominium
4
Little sister has reached 9, now she is getting married
5
Grandmother has a trainee job as a doctor
7
Little brother has beard and PUT (permanent residence)
8
Grandpa helps the police to control Gothenburg
-----------------------------------------------------------------------------
Hey, send your cards and letters to Mr Sanandaji.