Hat tip Creeping Sharia and Vlad Tepes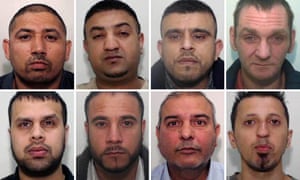 The BBC is televising a three-part drama series based on the court case of Pakistani-British men accused of sexual grooming and child rape involving British girls. It is a shocking series. What is also shocking are allegations that many of the men in this child trafficking ring are still walking the streets of Rochdale as free men. The local police are accused of ignoring the crimes.
https://creepingsharia.wordpress.com/2017/05/20/whistleblower-muslim-child-rapists-walk-free/
Vlad Tepes has posted the three part series here below. I have not watched it all, but have gone more or less from scene to scene at this point. It deals mostly with the home problems of the victims, their families' anguish, and the court proceedings. There are only a few scenes showing the girls' interactions with the accused.
https://vladtepesblog.com/2017/05/21/episode-1-of-3-girls-the-bbc-drama-on-muslim-sex-slave-of-children-gangs/
Naturally, there are some attempts at political correctness; a Pakistani-British prosecutor, the outrage by some Pakistani-British citizens that these crimes hurt the entire community and statements by one defendant and some community members that the white Brits are largely responsible for not raising their daughters properly. What cannot be avoided, however, is the fact that these offenders are almost all of Pakistani origin and that dozens of other locales have brought forth similar prosecutions. Thirty-six in all.