Hat tip Breitbart and The Aggie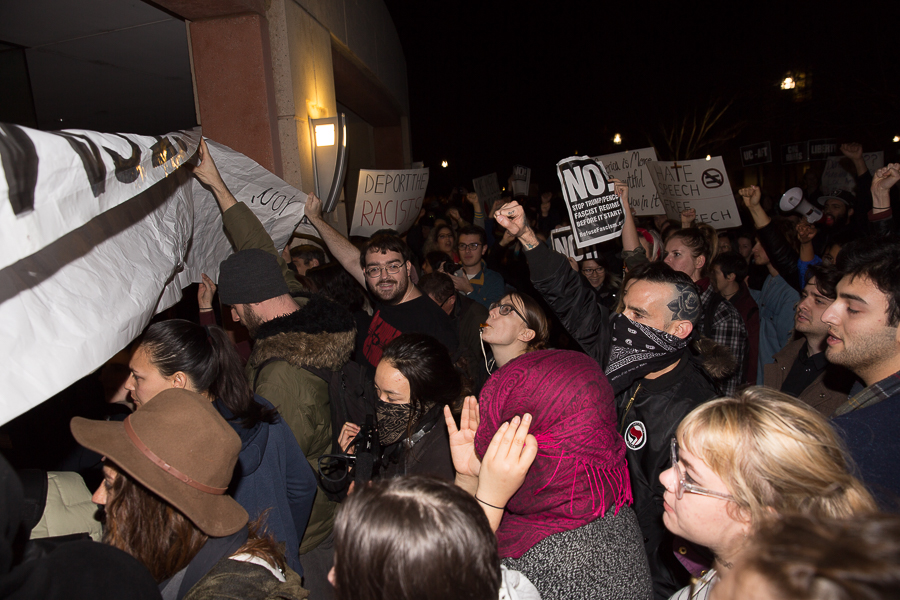 -The Aggie
Last night, an appearance by conservative pundit Milo Yiannopoulos at UC Davis had to be shut down because of the presence of protesters. There are differing accounts as to the amount of violence or disruption as well as who made the call to shutr the event down. In the below piece by the campus paper, The Aggie, university officials deny reports of violence or vandalism.
https://theaggie.org/2017/01/13/breaking-news-milo-yiannopoulos-event-cancelled/
"Despite some reports, there were no broken windows or other property damage during the protest," read the statement. "Earlier in the evening, one person was arrested inside the venue. No further arrests were made."
Which leads one to wonder why the event had to be cancelled.
Here is what Yiannopoloulos put out on his Facebook page:
"My event at UC Davis tonight has been cancelled after violence from left-wing protestors. There are reports of hammers, smashed windows and barricades being torn away. The campus police can't guarantee anyone's safety so I'm not being allowed anywhere near the building. Stay safe, everyone."

Further:
"UC Davis is lying to the press. (1) They keep saying that the College Republicans were the ones to shut down the event last night. Not true. My staff were in meetings with the campus police and university administrators last night and were told by them that the event could not proceed. We will be pursuing this matter further.
(2) Campus police say there was 'no violence' last night. But my guests told Breitbart reporters last night:
- barricades were thrown at police officers (police refused to answer Breitbart questions about this)
- guests were sprayed with urine and had bags of feces thrown at them
- punches were thrown at officers
- tables were flipped and thrown
- CNN told Breitbart their cameras captured violence
- an ABC10 reporter said she and her cameraman were attacked with hot coffee
- a reporter from the New Statesman said a table was thrown at her head
So. Left-wing thugs scared UC Davis into canceling my event last night by damaging property, hurling excrement at guests and starting fights. It was the university and campus PD who told us the event could not go ahead. Why is the university and its police force trying to pretend otherwise? Who are they trying to protect?"
If you want a video taste of the mob rule that went on last night,
this
is what happened to a Breitbart reporter.
Here is more from The College Fix with video showing the disruption.
From the Sacramento Bee
So in the face of all this mob rule, UC Davis shut down the event. To the entire UC Davis community I would say: Are you proud of this?