Hat tip Daily Californian, Frontpage Magazine and Truth Revolt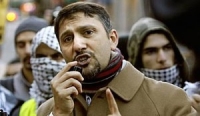 UC Berkeley Professor Hatem Bazian (center)
A picture says a thousand words.
There is an
editorial
in this week's Daily Californian (DC), the fish wrap of UC Berkeley, on the issue of speech and tolerance. It centers around students' protesting the name of one of campus buildings, Barrows Hall, because Mr Barrows was allegedly a racist while serving as an educator in the Philippines many many moons ago.
Well, I don't know about Mr Barrows, but I do know that the biggest problem with Barrows Hall is that it houses UCB Professor Hatem Bazian's phony Islamophobia Research and Documentation Center in a broom closet otherwise marked as room 638.
At any rate, there is an interesting reader comment thread going on in the online edition of DC, which I have jumped into. One of my allies in this thread, identified as Dan Spritzer, has pointed out (as have I) the numerous incidents of anti-Semitism at Berkeley that go unreported by DC. As you can see from the linked DC article, if it's a case of ableism (whatever that is), it "sells" as they say in journalistic circles. Anti-Semitism? Can't help you.
As Mr Spritzer points out in his comments, if DC wanted to take the time, they could explore the numerous inflammatory comments made by one of UCB's own professors, Bazian himself. This is the guy who came here from his native West Bank to get his higher education and was an instant rabble rouser on US campuses beginning with San Francisco State. This is the guy who actually
called for an intifada
in the US in 2004 before a campus crowd. Aside from the Islamophobia Research and Documentation Center, he is also a co-founder of another odious entity, Students for Justice in Palestine (SJP)
Anti-Semitism goes back several years at UC Berkeley. In this
Frontpage Magazine article,
you can read about a number of incidents over the years thanks largely to Bazian's Students for Justice in Palestine, an organization that has chapters on campuses across America and which engages in Brown Shirt tactics against its enemies (namely Jewish students who support Israel). The fact that some of SJP's members are leftist, misfit Jews themselves shouldn't fool anyone. Bazian is mentioned in the article.
Here
is a clip of SJP in action at UCB in 2014. Again, Bazian is featured.
When you chant, "We support the intifada" and "From the River to the Sea", you are supporting the killing of Israelis and the obliteration of Israel respectively (as if not both at the same time).
And look what this guy
called for
on the eve of Jewish New Year in 2014.
Intolerance? Offensive speech? The Daily Californian is looking in the wrong direction. They should start paying attention to the SJP and their founder, Hatem Bazian.