Hat tip Investigative Project on Terrorism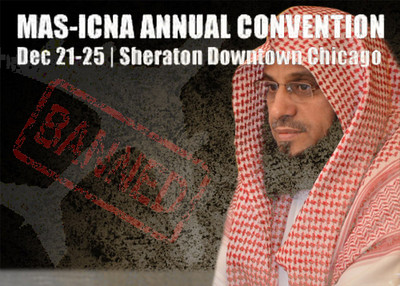 Shaykh Ayed al-Qarni
This week, the Muslim American Society (MAS) and the Islamic Circle of North America (ICNA) hosted a convention in Chicago featuring the usual suspects as speakers. Unfortunately, one of the worst, Shaykh Ayed al-Qarni, was not allowed to enter the US from Saudi Arabia due to a minor technicality.
http://www.investigativeproject.org/3864/cair-protests-saudi-radical-exclusion-from-us
"Throats must be slit and skulls must be shattered,"
".....a source of pride … downing their planes, destroying equipment, slaughtering them, taking them hostage, and proclaiming 'Allah Akhbar' from the mosques, and the worshippers and the preacher cursing them in their prayers, and then come others begging for forgiveness, and requesting a dialogue and a ceasefire and negotiations. Who can say even one word against
this true Jihad
against these colonialist occupiers?"
Minor technicalities.
http://www.masicna.com/conv2012/2012GuestSpeakers/tabid/118/post/sh-ayed-al-qarni/Default.aspx
Here is the sad announcement made to the attendees.
http://myemail.constantcontact.com/Unpleasant-News--Dr--Ayed-Al-Qarni-denied-access-to-board-plane-.html?soid=1103542047386&aid=AkU-u_-gD18
And of course, there is always the ubiquitous CAIR CEO, Nihad Awad, the Islamists' own version of Gloria Allred, who was last seen in Qatar hanging on the arm of the Jew-hating, infidel-hating, puppy-hating Muslim Brotherhood spiritual leader, Yusuf al Qaradawi. Now Awad is going to complain on behalf of al Qarni's "right" to enter the US.
Hopefully, Awad's pal at DHS, Janet Napolitano, will not fire the official who kept this guy off a plane to Chicago.
2010 Fousesquawk "Jerk of the Year" Janet Napolitano
(That reminds me, I have an important selection to make next week.)
Thus far, there has been no comment from White House press spokeshole Jay Carney (no relation).
However, somebody at the State Department obviously screwed up.
"Although Dr. Al-Qarni was granted the American visa weeks ago,...."
What say you, Madame Secretary?
By the way, anybody seen her around lately?