Hat tip to Investigative Project on Terrorism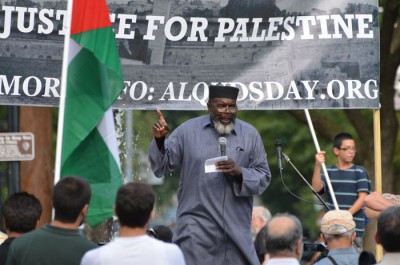 El Bad Guy
Abdul Alim Musa
If you want to see the contrast between Israel and her enemies here in America, look no further than this year's Al Quds Day rally in Washington. The Investigative Project on Terrorism has filed this report. All you need to know is that one of the speakers was the odious convicted drug dealer, ex-convict Clarence Reams turned imam Abdul Alim Musa, who is an open supporter of the Iranian regime.
http://www.investigativeproject.org/3716/israel-america-bashed-at-iranian-inspired-dc-rally
It is also noteworthy that this event was sponsored by Students for Justice in Palestine (SJP) , which has chapters on numerous US campuses and allies itself with the various Muslim Students Associations in their never-ending campus war with Israel. Here at UC Irvine, where I teach, the local MSU hosted Musa back in 2006. I caught the end of his speech by chance as he was telling us that Islam was going to take over the US. I called him an idiot, and that day launched my activism on the UC campus.
If you happen to be a college student and are confused about who is right and wrong in the Israeli-Palestinian conflict, all you need to do is connect the dots. MSAs- SJP-dirtbags like Abdul Alim Musa and his friends in Tehran. What more do you need to know?